Club Med Cefalu, Sicily
| | |
| --- | --- |
| Resort: | Cefalu |
| Operator: | Club Med |
| Destination: | Europe |
| Price From: | Contact for latest offers |
Where all-inclusive meets Sicilian lifestyle
Club Med's only European 5 Trident resort, this development signals unparalleled luxury on the continent from this leading travel brand. Expect to be pampered in exclusive, sophisticated surroundings, while the rugged beauty of northern Sicily waits outside to be explored.
Here at Cefalu, you'll be centrally positioned overlooking the sparkling Mediterranean, with easy access to nearby local beauty spots. In the resort itself, you'll be dining on Michelin star cuisine and making the most of opulent amenities, careful attention to detail and personalised customer service. A relaxing stay here will truly be one of a kind.
Bars
The main bar here is The Azzuro, which stocks a comprehensive range of alcoholic beverages and has a lively atmosphere into the early hours. This is the hub of Cefalu night life, as well as a great place to meet new people and make the most of the party atmosphere. For a quieter vibe, why not visit the informal il Palazzo Gourmet Lounge Bar, that way you'll be able to enjoy snacks with your drinks. The Eden bar, which is located next to the zen natural pool can provide you with coffee and mocktails throughout the day.
Restaurants
To get a real taste of Sicilian living, why not head over to the Cala Luna restaurant which will freshly cook barbecue food in front of you while you look out over the warm waters of the nearby blue ocean.
La Rocca also offers an extensive view overlooking the bay while you dine alfresco on an open-air terrace. Here, you can enjoy choosing your own dishes from the buffet style menu, which comprises of international classics and more local specialities.
If traditional Italian and Sicilian food is your preference, however, you will enjoy the offerings of the il Palazzo Gourmet lounge bar, which is open for a late breakfast and then all day, through until the evening. Snacks or larger meals are possible, prepared using local Italian produce, by the Michelin starred chef. Be sure to check out the delicatessen counter here too.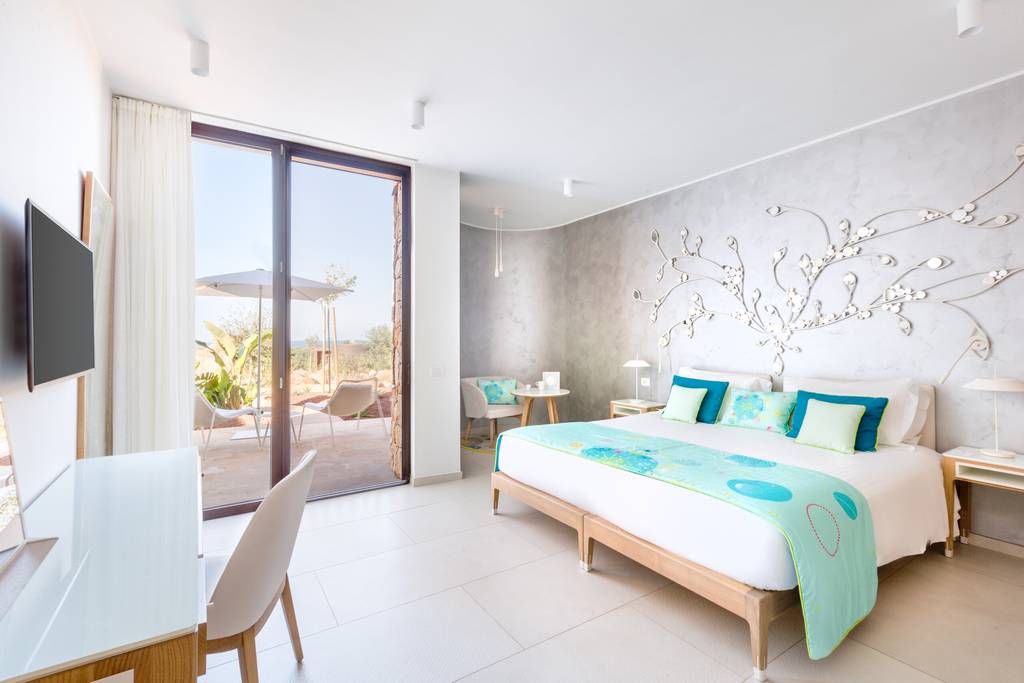 Rooms
All the rooms at Club Med Cefalu are spacious and luxurious, with plenty of personal space and a king-size bed. The superior club will give you access to a terraced area with two loungers and a view of either the sea or the garden. The Villetta Deluxe gives you a private terrace area and separate lounge area within your own private bungalow. The suites give you 50 sqm of floor space and around the clock room service, whereas the other options only offer in-room breakfast dining.
Facilities
All the Club Med resorts offer exceptional sports and leisure facilities, with a swimming pool and spa as standard. On site at Cefalu you can make the most of several sports schools, which will give you full tuition in archery, fitness, tennis, sailing and hiking. In addition, you can also do football, volleyball, electric surfboard and snorkelling. Each of these activities are included in your package. Kitesurfing and scuba are also possible with instruction, but you will be required to pay a supplement.
Location
Club Med Cefalu is located just a 5 minute drive away from the town of Cefalu Northern Sicily. It's close to La Rocca and only an hour away in the car from Palermo. Attractions nearby that are well worth a visit are the beaches, the natural mountain beauty of the National Madonie Park and the Norman-design Cefalu Cathedral.
Booking
If you'd like to book a week or two at Club Med Cefalu, please give the Aspen Travel team a call. We have been making holiday bookings on behalf of Club Med for many years and can advise you on any resort details you need to find out.